What is Lead Generation?
Lead generation is when you attract new users (prospects) to your business and then you increase their interest through nurturing, all with the end goal in mind of converting them into a loyal customer. Maybe the best and more powerful way to generate leads is through a landing page with a blog.
Have you reached the point where you don't know what else to do to increase your sales leads? Do you need a practical, fast and low-cost solution? Then this is the right place for you. Find out how powered by AI chatbots can help you meet your goals!
How to install a chatbot at your website in less than 10 minutes?
Installing a website chatbot is very simple, but it requires some technical knowledge. Don't worry, because you'll be able to do it yourself following this simple guide; it'll only take a few minutes.
If your business is small maybe you manage your own website, but if it is a mid-size or large business, then maybe your website is managed by another company.
Before going into all this I would like to pause a moment and explain what a website Chatbot is.
A chat bot or live chat with pre-programmed answers is a program you can include at your website in order to chat with visitors.
The purposes of the conversation are basically two:
Answer visitors' FAQ: This is much more important than you can imagine. People no longer have time and can't waste it looking for the information themselves. If they can't find the answer to what they are looking for they just close the tab and go onto your competitor's site.
Collect contact information: such as name, phone number, email, and other data which is interesting for you in order to convert those visitors into Leads; this is, potential clients!
Leads arrive directly to your email or CRM, if you wish.
You might be asking yourself what role the contact application plays in all this, since its purpose is precisely to collect visitors' information. We approach this topic in another article, but we can say here that the contact application is becoming obsolete very fast since the user almost never completes it. Why? Because nobody wants to wait for days to receive an answer and, most of the time, said answer never arrives.
Once we have understood what a Chatbot is, we can now see how to install one at your website in less than 10 minutes.
The first thing we have to do is find a free chatbot or, at least, one that can be tried out for several weeks without having to pay for it.
Here's a list of chatbots, updated to 2022:
The best Chatbots in Spanish and English.
HubSpot It is free but only for HubSpot users.
SimianBot Free forvere with some limitations.
Zendesk
Aivo Only paid version available, it is corporate solution.
Let's begin with the second one, Simian bot.
SimianBot is an American company based in Delaware, which offers artificial intelligence technology in Spanish.
The AI motor is OpenAI, which guarantees quality higher than its competitors'.
If you don't know, OpenAI is the company founded by Elon Musk, which later on received a billion-dollar investment by Microsoft.
What's interesting is that SimianBot offers any company, regardless of size, the latest in technology without having to worry about cost.
If you are asking yourself if this Chatbot is really free, the answer is YES! SimianBot is free with no time limit.
You can, of course, change to upgraded paid versions.
It's important to note that, unlike all other Chatbots, this one was created and developed specially for websites to help increase the Leads conversion rate, so this is a Lead Bot.
This doesn't mean you cannot use it for other purposes; yes, you can, but if your purpose is to increase the number of possible clients you receive from your website, you will quickly notice the benefit of having the robot's logic thought and programmed towards this purpose.
For example, SimianBot is the only chatbot in the market capable of sending you an enriched prospect; this is, with much more information than what you usually have. For example, in real estate it's very common for the website visitor to leave an enquiry such as: "I'm interested in going to see this apartment or house." The problem with this type of inquiry is that we don't know what property the person is referring to. We can always call or send an email to the potential client asking about it, but everyone in the sales field knows that when contacting potential clients, you have to take advantage of every minute. So, it would be much better if we can contact them knowing the most details possible. This way we can prepare the sales pitch and anticipate possible negative answers.
That's why SimianBot not only sends you a Lead, but it sends you a Lead with much more information than other generic Chatbots.
Look at some of the information you'll receive from your website's chatbot:
Name
Telephone number
Email
Website the person was consulting. (Very useful to know what product-service the person is talking about).
Country
Interest
Budget
Besides all that, this is the only Chatbot in the market that allows you to send PUSH notifications directly to the client's phone or computer.
This increases by far the possibilities of a follow-up contact. Imagine having this new channel for when a client doesn't take your calls or doesn't open your emails.
For a person to receive your PUSH notifications, he/she must first agree to this. We can say that the number of people who accept to receive notifications is very high; after all, they were the ones who looked your company up and now they want you to contact them.
In order for you to use this chatbot in your company or business you only have to access simianbot.com and register your company. You will receive an email with the information to activate it and you will be able to access the web administrator.
In the web administrator you can configure your Chatbot's answers, see the incoming Leads' information, and send your potential clients messages through PUSH notifications.
For now, let's focus on the first step, which is installing the bot.
Accessing the Chatbot and installation section, you will see an html code; to have the chatbot working at your site, you only have to copy and paste that code at your site's main html, just before closing the "body" tag.
Here's how the code is already inserted in the HTML.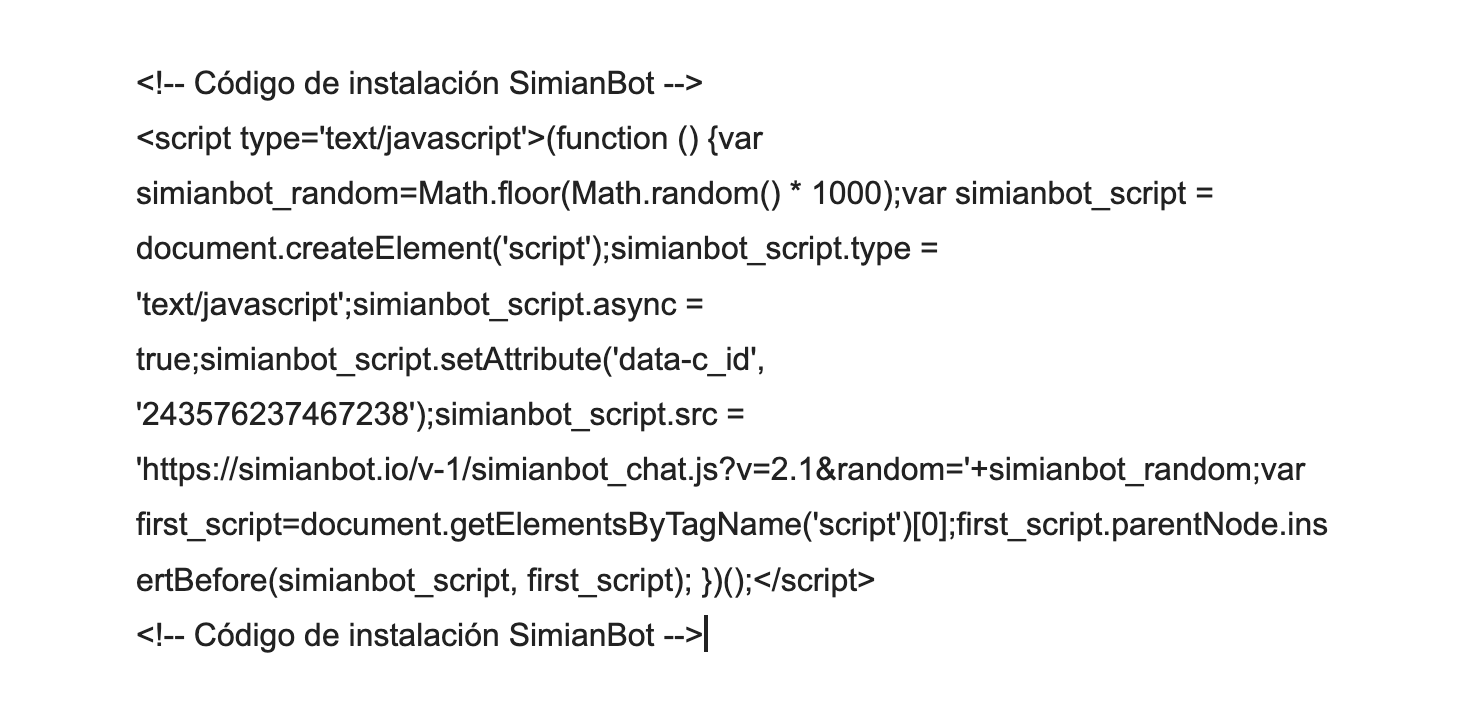 If you don't know how to do it, you can ask for support and the Simianbot onboarding team will help you do it.
After you copy and paste the code at your website's html, you only need to access your company's url and confirm that the Chatbot is visible in the lower right-hand side of your screen.
One of the main distinctive features of this bot is that it doesn't need to be configured to begin working. Once the code is at your website, the chatbot will begin to serve your visitors 24 hours a day and will ask for their basic contact information. You will be surprised when you magically receive the first Leads in your email inbox!
Look at this message from our client Samson Realtor when he received his first Lead: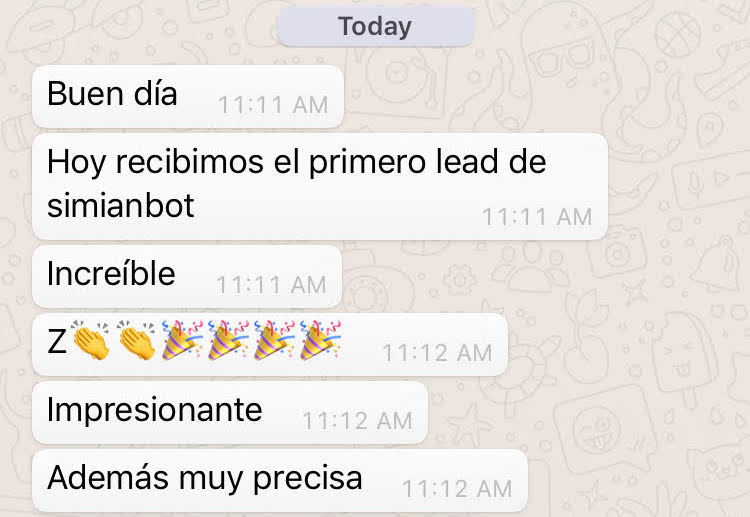 If you are still not convinced, watch this testimonial from another real-estate agency owner. He didn't receive any contacts from his website and now he gets an average of 200 potential clients per month.
Click here to watch testimonials about using the website Chatbot.
If you wish to do so, you can configure the bot so it asks for additional information, depending on what you are interested in receiving.